What do you give the team that has everything, or at least almost everything? Germany comes in as the defending champion, and for many, this writer included, they have to be a favorite to repeat. They lead Group F heading into Russia.
GERMANY 


Photo courtesy of http://www.flagpedia.net.
Team profile 
Nickname: Die Mannschaft
Total appearances (including 2018): 18
Best finish: Champions (1954, 1974, 1990, 2014)
Current manager: Joachim Löw
Caps leader: Lothar Matthäus (150)
Leading scorer(s): Miroslav Klose (71)
The Cup 
Group/Placement: F1
Date of qualification: October 5, 2017
FIFA ranking at tournament draw: 1
Matches 
June 17 vs. Mexico – Moscow (Luzhniki)
June 23 vs. Sweden – Sochi
June 27 vs. South Korea – Kazan
The defending champions show no signs of slowing down. They won the Confederations Cup with what was essentially a B-team roster. This team could be scary for years to come. And to think that about 15 years ago, Die Mannschaft was in need of a serious rebuild. I think they've met those lofty expectations.
Some people have this as a potential group of death. I don't see it, at least not for the seeded team. Germany is strong in every position, although an injury to goalkeeper Manuel Neuer is one of the few things that might slow them down. Still, if he plays, Roman Weidenfeller (Borussia Dortmund) is said to be a more than capable replacement.
Chasing down history is attacker Thomas Müller. He has ten goals in his Cup career, and his former teammate Miroslav Klose is the all-time leading Cup scorer with sixteen. If Müller gets hot, though, that record may quickly be in jeopardy. Germany is loaded. If there's one team that said to be safe money, at least in theory, it's said to be them. Even if they're still not everybody's favorite team, the technical precision is glorious to watch. No team has repeated since 1962,  but history may be on Germany's side this time.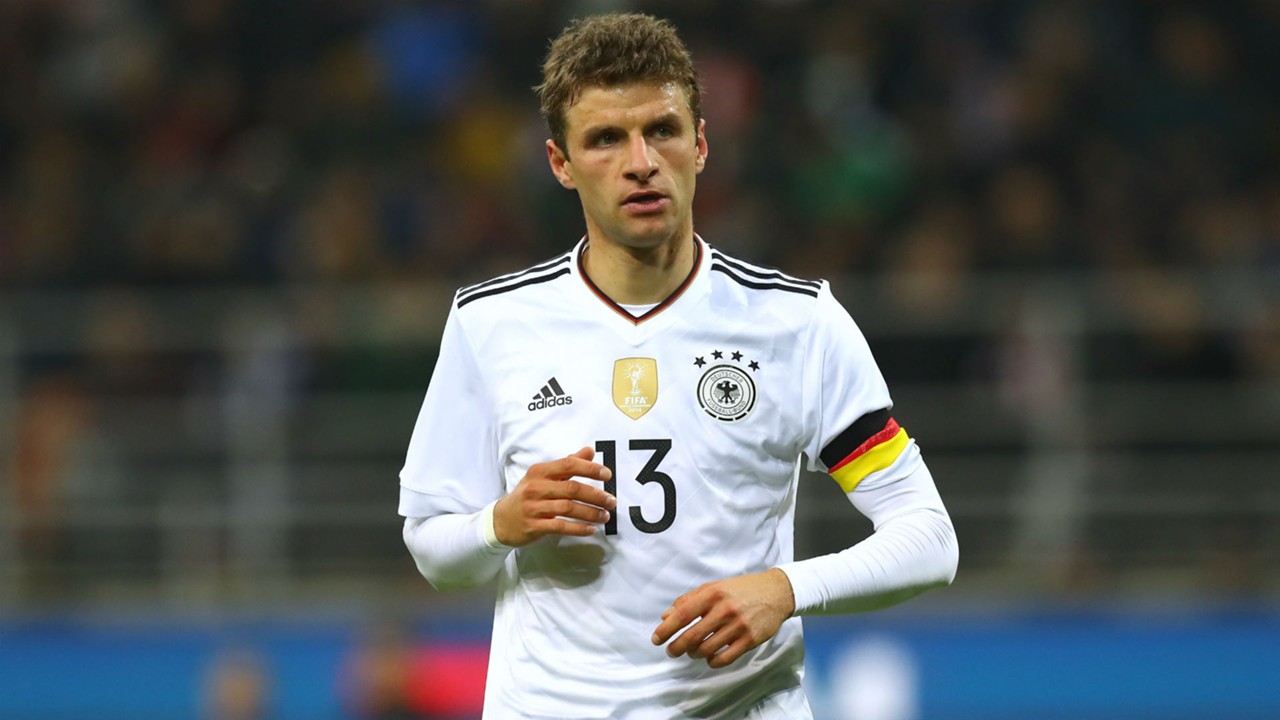 Thomas Müller and his team will be chasing history in Russia. Photo courtesy of http://www.goal.com. 

Germany's DFB crest logo. Photo courtesy of http://www.logos.wikia.com.